M A R C H   P R O M O T I O N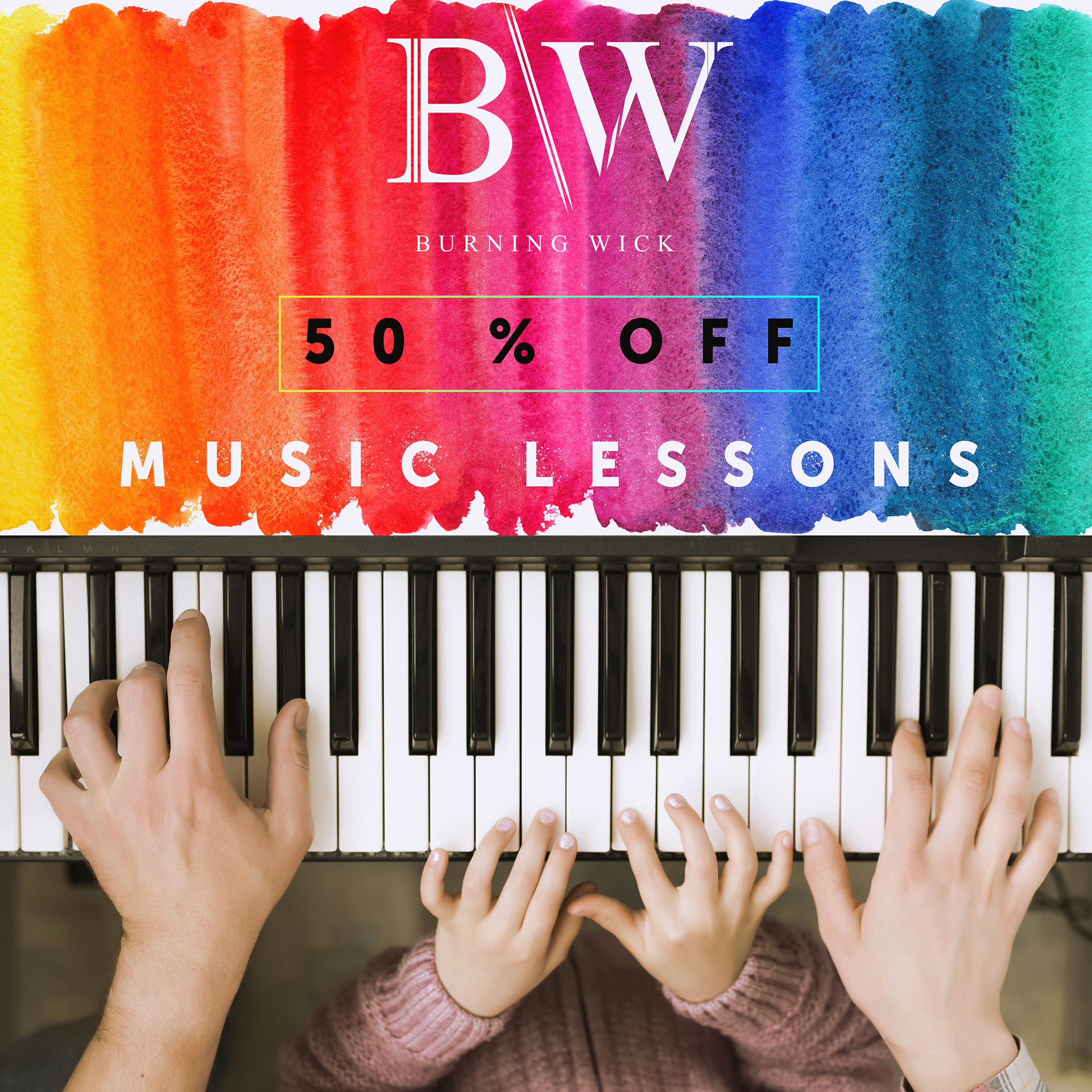 The 50 % off applies only to new students on their first month of lessons. To get access to more 50 % off, you must refer a new student and they must sign up for one month of lessons for both you and the referral to gain access to the 50% off.  
Interested in learning how to.....
Direct

your next music video? 
Design

your next album art or band logo?
Shoot

photography for you
ist /
r next client?
Here at

Burning Wick

we don't only offer professional services,

WE ALSO TEACH THEM! 
Burning Wick

is a team of professionals with years of experience in teaching many different instruments and professions to all ages! Our team has detailed lesson plans that makes knowledge easily transferable to the students. Most lessons departments only teach a couple of instruments or professions, but here at

Burning Wick Lessons

we teach you everything you need to become a rockstar, photographer, illustrator, videographer, and graphic designer!
​​​​​​​
I N S T R U M E N T E L S
( GUITAR / PIANO / BASS / UKULELE / DRUMS / VOCALS ) 
(

At home lessons are a premium

. We charge an

extra $40 per service plus a travel fee

which depends on how far the students are located.)
( PREMIERE / AFTER EFFECTS / ILLUSTRATOR / PHOTOSHOP / LIGHTROOM / LOGIC PRO X / PROTOOLS / FL STUDIOS  / PHOTOGRAPHY / VIDEO PRODUCTION)
(For some services, our employees will travel to the students house/apartment/ect. if required by the student there will be travel fees added on top of the initial monthly fee.)
If you are someone who who might be interested in learning these skills you can

SIGN UP

with us below!
(7 3 2) - 9 1 7 - 0 9 4 3